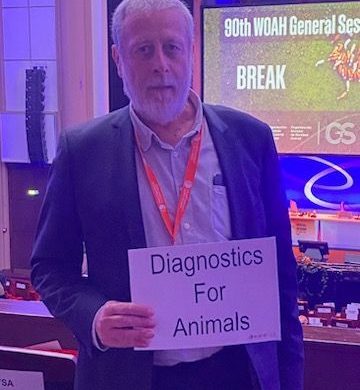 Diagnostics for Animals Delegates, Jean-Luc Troch, President, and Jean-Louis Hunault, Secretary General, participated in the 90th General session of the World Assembly of Delegates of the World Organization for Animal Health (WOAH) in Paris, held on 21-25 May 2023.
A nice opportunity to stress the capacity for our members to contribute at the surveillance of the virus of High Pathogenic Avian Influenza (HPAI) and remind the conditions to assure the success of the future vaccination strategies.
It was mentioned the importance of the surveillance, the detection, the identification, the use of new tool like vaccination and his control and follow-up.
Diagnostics for Animals' members offer many tests regarding this disease.
The list is available here.
Jean-Luc Troch, President of D4A,
with the French Minister of Agriculture and Food Sovereignty, Marc Fesneau