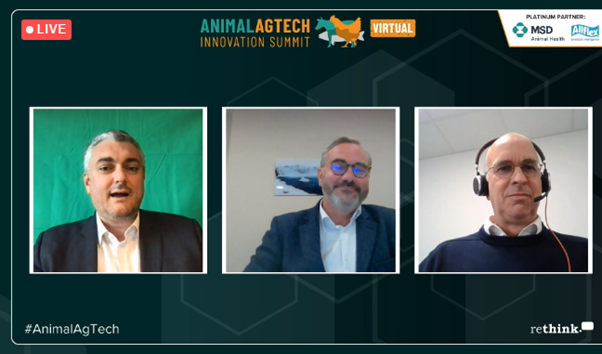 Driving Health, Sustainability and Economic Growth in the Livestock, Dairy and Aquaculture Industries
The Animal AgTech Innovation Summit was held as a virtual event on October 19-20, 2021. A full programme of 1-1 meetings, interactive panel debates, start-up pitching sessions and investor insights provides an unrivalled platform for new business development in animal health, nutrition and precision farming.
Jean-Louis Hunault, Secretary General of Diagnostics for Animals, attended as a Speaker.
Here is the agenda of the event.
In the picture: Simon Doherty (QUB) – Jean-Louis Hunault (Diagnostics for Animals) – Alan Beynon (MSD)